Quality without compromises
Our machine park is a combination of American know-how, Japanese precision and French technology.
The latest technology of print: HP latex of the third generation, highly resistant to scratch and to UV radiation (exceeds with parameters such as durability of print from hard solvent).
Capacity: 50 m2/h (photo quality mode) - 75 m2/h (production mode) = 1200 m2 - 1800 m2/24h
Machine Park: the latest innovative plotters for latex print HP latex 360 printing in photo quality. Precise plotters cutting along the contour of SUMMA. Reliable laminators KALA Mistral. Machine Park is supplemented by Japanese plotter MIMAKI JV33 for cost-effective large format print.
Experience: 15 years in the sector.
---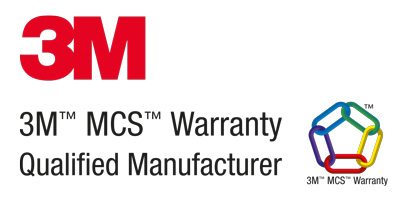 We are a certified manufacturer of latex prints on 3M film covered by 3M™ MCS™ Warranty
Drukarnia DPSprint.eu is the property of Agencja Reklamowa CONTACT, which as the second company in Poland meets high quality standards and has passed the whole certification process of 3M™ MCS™ Warranty programme positively. Our products in HP latex technology on 3M™ film are covered by international warranty of the manufacturer: 3M film and 3M protective laminates on approved printers, including HP Latex.
---
Textiles

Possibility of print on a lot of various textiles including uncoated and natural textiles (e.g.: canvas 100% cotton). Easy method in comparison with colour sublimation techniques.

Odourless prints meet high environmental standards - perfect for hotels, restaurants, schools, flats. Easy in application HP WallArt solution - www.hpwallart.com

Lower costs while keeping high quality. Excellent results on paper of each type including cheap uncoated and offset paper.

Advertising showcases - backlits

Backlit components of high quality. Prints of high resolution up to 1200 dpi. Vivid and saturated colours. A wide range of material for backlit prints: paper, film, polypropylene and textiles used for e.g. backlighting of tensioned suspended ceiling.

Pictures deserving representation of the best brands. Results of the highest quality on self-adhesive vinyl carriers and banners. Non-laminated prints of outside advertisement of durability up to three years and laminated prints up to five years.

Fast final result, even at very urgent works. Lamination immediately after print - without necessity of waiting for drying. Flexible layer of ink adapting to multifaceted surface.
We are the manufacturer.
You omit intermediary margin by ordering print at us. Large format printing house and DPS Printing Solutions brand is the property of Agencja Reklamowa CONTACT with 15 years of experience in designing, creation and production.
We ensure comprehensive service of the order and conscious responsibility of our agency team for each stage of the order execution. We offer large-format prints of the highest quality and only on original material.
Photo wallpapers,
material for interior decoration,
wall Alu screens dibond
prints on fabrics,
pictures on canvas,
film,
car cast film,
photographs of the highest quality on displays,
large-format posters,
rollups and exhibition systems,
backlite boards
billboards, banners and mesh.
In addition, we offer services such as: covering cars, shopping windows, boards, applying on PVC, billboards, plafonds, advertising structures together with assembly.
We print on original and verified materials:
---
We print in large format technology of latex print on the latest plotters of the third generation of HP latex 360. This is the best available technology of large format print in the world at present. HP Latex ink is water-based and combines the best features of solvent and water-based ink. It ensures very high resistance to scratch and durability to UV radiation - over 5 years without protection with laminate (durability higher than at hard solvent). Above average, very high quality is the unquestioned advantage. Prints made with HP Latex ink dry completely inside the printer and comprise a durable picture which may be, in dependence on the needs, exposed, laminated, finished or sent straight away.

HP Latex technology offers extremely broad possibilities of creating prints placed both outside and inside buildings, considerably exceeding what can be reached on traditional ecological printers or on printers with water-based ink. Print of the highest quality in very durable, odourless, ecological, bright and vivid prints is perfect for interior decoration (photo wallpapers, pictures on canvas), durable interior and outdoor signage (signboards, banners, mesh, wrapping of cars, buses andcovering exterior plaster and bricks, backlit, citylight). Odourless prints meet high environmental standards - perfect for hotels, restaurants, cafes, hospitals, kindergartens, schools, flats. Material durability is better than in case of ink with eco-solvent, and even with hard solvent. Graphics placed on vehicles have 3M™ MCS™ Warranty.

Website of the manufacturer: www.hp.com

Large-format latex prints are directed to environmentally conscious customers. HP Latex ink has certificates UL ECOLOGO, GREENGUARD Children&Schools and ink cartridges with Eco Mark certificate.

GREENGUARD ENVIRONMENTAL INSTITUTE (GET) HP products have GREENGUARD CHILDREN & SCHOOL certificate - they can be applied even in such places as schools, health-care centres and restaurants.
FSC (Forest Stewardship Council) is the first and probably the most recognisable in the world certification system of forests and wood products. It promotes ecological, social and cost-effective justified methods of sustainable forest management all over the world.
Oeko-Tex is the world's leading safety mark of textile products. Goods and products with this sign are free from harmful substances in concentration having a negative effect on a human state of health such as: pesticides and allergic colours.
HP Latex ink obtained BERTL'S BEST award in the category: innovative and eco-friendly technologies connected with ink. BERTL is an independent research laboratory whose purpose is providing objective reports on product assessment and comparative analyses of copiers, printers, multifunction products, fax and systems of digital print and black and white print.
HP Latex ink is compliant with Nordic Ecolabel (Nordic Swan) standards. Nordic Ecolabel is an organisation which sets standards for commercial management of environment and grants points for ambitious ecological projects. Criteria hidden behind the symbol Nordic Swan determine such production aspects as kind of basic components, energy, water consumption, waste management, participation of certified components and possibility of product recycling.

Mimaki JV33 - Japanese precision

Very high quality of print 1440 dpi.

Mimaki JV33 prints in Variable-sized Droplet Technology with resolution maximum of 1440 dpi - ensuring photographic quality of works. Beyond perfect quality of print model JV33 has been equipped with new heads considerably increasing the speed of work. Print technology of piezoelectric head new generation leads to the highest of achievable quality of print (in solvent printer class). Maximum achievable resolution is 1440 dpi – as a result even a text of size of 4 points is sharp and fully legible. Our heads print in Variable-sized Droplet Technology (3 sizes of drop) owing to which achievable print is characterised by high colour depth and "smooth" colour gradients. Even in modes of high speed of print and low resolution Mimaki JV33 surprises with exceptionally high quality of print.

Website of the manufacturer: www.mimakieurope.com

Mistral 1650 - French technology

Guarantee of lamination and wrapping without wrinkles.
KALA Finishing Systems are professional, large-format laminators of the highest quality. They are intended for protection of prints and giving them aesthetic unique image. Additional function of these devices is possibility of application of prints or mounting film on thick rigid surface (maximum 50 mm thick). All models of laminators of Kala (Mistral, Sirocco, Atlantic and Baltic) are designed for service of high-volume orders. Kala means universal laminators which can work on all available in the market materials for lamination and encapsulation (on laminates activated by pressure, low, high and very high temperature). Laminated applications can be exposed both inside and outside (in dependence on the ground used for print and the kind of ink) All machines of KALA are designed and manufactured in France and possess CE certificates.

Website of the manufacturer: www.kala.fr
---